Our Farm's Favorite Sources For Garden Seeds and More
It's finally winter and we can all take a sigh of relief after the hard work of the summer and fall growing veggies, right!?
With the solstice and other holiday festivities right around the corner I know for sure we are looking forward to days of rest, reflection, and renewal with family and friends.
We are also thinking ahead of next season, remembering what we want to improve upon or try new in the coming year.
Is it true for you, too, that as soon as you finish a season you start to get excited about another year coming?
As everyone starts looking ahead to spring, a common question we get asked as organic farmers is:
Where do you get your seeds?
And I'm here to answer it for you!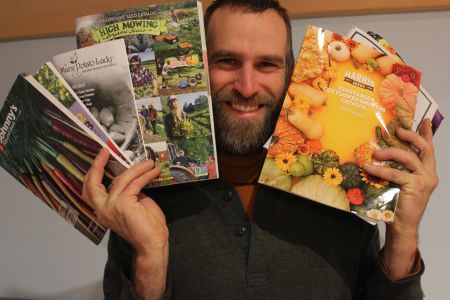 What kind of seeds do we buy?
There are sooooo many options out there, and it's sometimes confusing how to know if you're getting what you want, right!?
After many years of looking through dozens of seed catalogs we have come up with a dynamic list of various seed companies around the United States from whom we buy the seeds we use on our farm.
As we are committed to a healthy lifestyle for our family and our customers, we do not use GMO (or GE or "Genetically Engineered / Genetically Modified Organisms") seeds on our farm.
You may share our concerns as we have fielded many a question from customers and gardeners about this topic over the years.
In order to avoid using GMO (or GE or "Genetically Engineered / Genetically Modified Organisms") seeds, we have two options.
Option one: We choose seeds from companies who take the Safe Seed Pledge which means that they don't knowingly sell GMO seeds. There are over 150 companies who have taken this pledge. Here's the text of the pledge:
"Agriculture and seeds provide the basis upon which our lives depend. We must protect this foundation as a safe and genetically stable source for future generations. For the benefit of all farmers, gardeners, and consumers who want an alternative, we pledge that we do not knowingly buy, sell, or trade genetically-engineered seeds or plants. The mechanical transfer of genetic material outside of natural reproductive methods and between genera, families, or kingdoms, poses great biological risks as well as economic, political, and cultural threats. We feel that genetically engineered varieties have been insufficiently tested prior to public release. More research and testing are necessary to further assess the potential risks of genetically-engineered seeds. Further, we wish to support agricultural progress that leads to healthier soils, genetically diverse agricultural ecosystems, and ultimately healthy people and communities."
Option two: We choose Certified Organic seeds. The Certified Organic label means that the seeds are not GMO (or GE or "Genetically Engineered/ Genetically Modified Organisms") seeds. Over the years there are more and more Certified Organic seeds available in the marketplace due to strong demand from customers for organic food.
So where to go for one of these two options?
Read on...
Where do we get our seeds?
It is this time of year that we are super excited to open our mailbox and get a new seed catalog to look through. Even our daughters love looking at the pictures and the names of the veggies and plants. Our 6 year old even keeps the old catalogs in her room and calls them her "school books"!
So, where are we surfing and dreaming up ideas for next season??
Check out the sources below for inspiration for you or for a gardening/veggie-loving friend or relative.
Our favorite sources for vegetable seeds are:
Johnny's Selected Seeds (Maine company)
Fedco Seeds (Maine company)
High Mowing Seeds (Vermont company)
Maine Potato Lady (Maine company)
Territorial Seeds
Osborne Seeds
Harris Seeds
Other great sources for vegetable seeds for the home gardener are:
Pine Tree Seeds (Maine company)
Wood Prairie Farm (Maine company)
Baker Creek Heirloom Seeds
Adaptive Seeds
Our favorite sources for native and perennial plant seeds are:
Wild Seed Project (Maine organization)
Prairie Moon Seeds
Fedco Seeds (Maine company)
Outside Pride Seeds
Richter's
Where do we get our organic farm supplies?
Another question I get often from gardeners especially. As you already know or can imagine there are many supplies that go into making a small farm or garden go smoothly during the busy time of the season.
While it would be impossible to produce an exhaustive list of supply sources for our farm, here is a great basic list of our go-to sources with a focus on Maine suppliers.
Our favorite sources for farm supplies are:
Fedco Organic Growers Supply (Waterville, Maine)
Johnny's Selected Seeds (Winslow, Maine)
Maine Potato Lady (Newport, Maine)
Paris Farmer's Union (Store in Newport, Maine)
Bob's Home, Farm, and Garden (Store in Dover-Foxcroft, Maine)
So here's to planning and dreaming a successful season in 2023!
I hope this list is helpful to you and interesting! It's always fun to try new things in the garden and on the plate, so I hope this will inspire you to do so!
Or maybe inspire you to get a gift certificate for a loved one who loves gardening and veggies!!
What is your favorite source for seeds and all things gardening?? Please share in a comment below so we can all learn from each other!