How CSA Works
Eat more vegetables.
And love every bite.
An organic farm-fresh vegetable subscription that will help you get better quality, change the way you eat, and grow your family's excitement about vegetables.
What and how much is in a CSA share?
Is CSA right for me?
If you want to roughly know what to expect in our CSA farm share program, our PDF Harvest Guide is for you!
Subscribe to our email list below to download the guide!
"Better health awaits you with your very first box - try it out!"
-Ripley Farm CSA member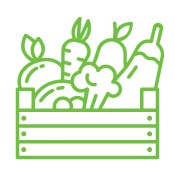 You want to eat more vegetables and try new things.
We'll help you do it.
Our Certified Organic veggies are picked fresh for you and taste delicious.
Every time.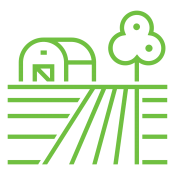 Rest assured.
We grow everything with care right on our local family farm.
The Ripley Farm CSA vegetable subscription program
How it works
Tell us you are ready for more and better vegetables. We'll get growing.
Pick up a weekly variety of vegetables hand selected by your farmers.
You don't have to be a fancy chef to prepare delicious food everyone will love.
"We love our CSA from Ripley Farm because... we know the quality and nutritional value are A+++!"
--P.&S. W. Ripley Farm CSA members
"Many times there are new things that we may not have tried before but the newsletter has suggestions for use and it has expanded our diet greatly. We now have new favorite veggies because of the CSA."
--K. & M. K. Ripley Farm CSA members
"I have learned so much about what I eat and I am happy to be a part of Ripley Farms!!"
-B.M. Ripley Farm CSA member
"The boxes are always filled with fresh, delicious veggies and great recipe ideas to try for the whole family."
--S.H. Ripley Farm CSA member
"After 80 healthy and happy years of enjoying my own home grown veggies, I'm now supplementing my smaller garden with Ripley Organic Farm's large variety of highest quality veggies."
--S.N. Ripley Farm CSA member
What's inside your box?
Fresh vegetables from your farmers
Support to help you love every bite
The MOFGA Certified Organic label
…and the element of surprise in eating seasonally!
Download our free CSA Harvest Guide
Pick a CSA farm share season:
July-October
Sign up for Summer 2024 will open in January 2024.
Learn more about this popular program here!
November-March
Sign up is now open for winter 2023-34.
Learn more about this popular program here!
April-June
Sign up is now open for Spring 2024.
Learn more about our popular program here!
"I'm always excited to see what I have in my box each week. It's kinda like Christmas. Every time I eat a raw carrot, I think how much sweeter these are than any others I have ever had. I just love them..."
--A. D. Ripley Farm CSA member
"Christmas comes once a week for us from July through mid October thanks to our CSA with Ripley Farm."
--M.S. Ripley Farm CSA member
"It's easy to feel enthusiastic about your food when your farmers are interacting with you weekly."
--K.N. Ripley Farm CSA member
"Participating in Ripley Farm's CSA program fulfills our mission to support local, sustainable agriculture and to eat an organic vegan diet."
--M. V. Ripley Farm CSA member
"We started as a way to support our goal of eating healthier and also trying new and different fresh veggies. Guess what, we learned there's a lot we didn't know about and now love!"
--F.F. Ripley Farm CSA members