Welcome 2
Everything is 100% Organic
We're proud to be a MOFGA Certified Organic farm since 2009.
We're in the Top 2% of Farms
We're proud to be in the 2% of farms that make it 10 years or longer.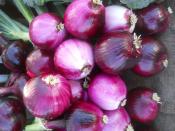 We're proud to have exceptional CSA member retention rate of almost twice the national average.
Welcome to Ripley Farm!
Do you find it hard to find vegetables that are truly fresh and taste delicious from a source you can trust?
Do you want to help the bees and butterflies and birds, but don't know where to start?
At Ripley Farm we share your interests!
As a small family, we know how important it is to trust that the food you put on your table is healthy and that the plants you plant in your garden are beneficial.
What are you looking for?
Hi! We're Gene and Mary Margaret Ripley. Please pick your interest below to learn more:
We're your community farm!
We have farmed organically, cooked nearly 100% of our local veggie-centered meals at home, and taught 'eat more veggies' classes for over a decade in the Dover-Foxcroft and Central Maine area community.
Through our CSA farm share program and classes we have helped hundreds of Central Maine families change their diets and discover new ways to love veggies.
Our community is full of people who successfully meet their goals of dramatically increasing their vegetable consumption and satisfaction in the kitchen.
We look forward to meeting you soon!
Watch our video below and read our about page for more about our family farm.
~Gene and Mary Margaret Ripley