How Our Spring CSA Works
Fill your craving. Eat lots of greens.
Spring CSA farm shares
A twice-monthly box of organic farm-fresh vegetables with recipes and support that will help you eat more fresh greens, roots, etc. after a long winter.
You've been a member in the Summer CSA and/or Winter CSA, and love getting the fresh vegetables straight from the farm.
Or you're a gardener who loves garden fresh taste more than anything.
But, you hate going back to the grocery store after the CSA programs end and before your garden really gets cranking.
It's just so disappointing, right?
Good news! It doesn't have to be that way.
Now you don't have to go back to the grocery store.
You can eat great vegetables, local and organic vegetables, vegetables that are grown right here on YOUR farm year round!
We're giving you the opportunity to bridge the gap between the Summer and Winter CSA programs...
With our Spring CSA farm share program!

A Spring CSA subscription is probably a good fit for you if…
You love the stalwart winter veggies!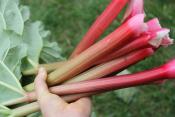 You're excited to try seasonal spring specialties not available anytime else!
"Loved the fresh greens..."
"We loved the fresh greens! All were outstanding! The complementing roots added to the salads or made soups to go with the salads... In other years, we were getting vegetables April-June at the grocery store. The quality can't compare with the tasty freshness of your veggies."
--Beth, Spring CSA member
What is in the Spring CSA?
We've designed the Spring CSA farm share program to bridge the gap between our Winter CSA and our Summer CSA programs.

The contents will reflect this with the early shares still featuring many storage veggies as well as spring greens from the high tunnels. The later shares will feature a combination of greens and other early salad crops from high tunnels, a few early outdoor crops, and some super-sweet stalwarts from the root cellar.

Each share will contain roughly between 6-9 items and a newsletter just like usual.
These items are possible for the Spring CSA:
Carrots
Beets
Potatoes
Cabbage
Rutabaga
Spinach
Lettuce
Baby kale
Radishes
Salad turnips
Scallions
Fresh onions
Rhubarb
Fresh herbs (chives, thyme, lovage, sage, etc.)
And more!
*Please note the CSA PYO gardens will not be open until the start of the Summer CSA in July. It is possible that in the future PYO garden access might be extended to include the Spring CSA, but not during this year.
"The mix was great..."
"The mix was great! I really expected almost all greens. It was lovely to have the storage vegetables too. The surprise new things were appreciated as well.
I loved the farm freshness of spring vegetables. I loved having greens to eat. I would normally be at the end of my freezer stash and be eating more starch and less veggies plus buying some at the store."
--Joanne, Spring CSA member
Here are examples of actual Spring CSA shares from the past seasons: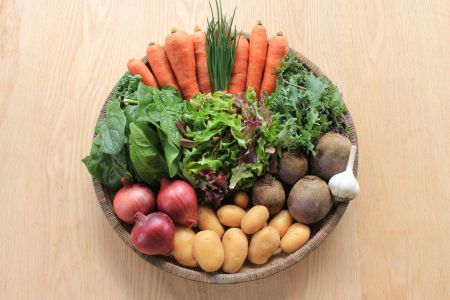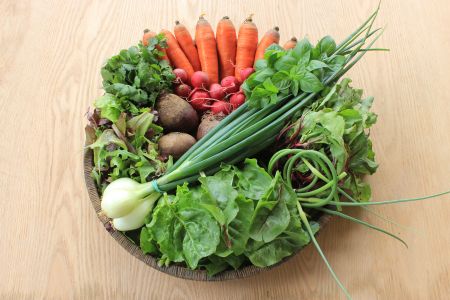 Please see What's in the Spring CSA? for more info and pics.
What comes with Ripley Farm's Spring CSA membership?
6 twice monthly boxes of 6-9 great tasting fresh vegetables from our farm (April-June)
From end of winter to early summer: the veggies will be different each week to keep it interesting
The USDA and MOFGA certified organic label.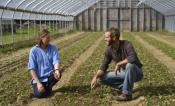 Direct contact with your farmers at pickups, in newsletters, and on social media.
"Very reasonable..."
"The cost per week of the CSA is very reasonable, for the quantity we get, and that it's organic, and always so visually attractive, colorful, in great condition, etc."
--Susan, Spring CSA member
Ripley Farm's 2024 Spring CSA membership -
Registration is now open for Spring 2024!
6 twice-monthly boxes of fresh vegetables, April-June (see below)
A wide variety to keep it interesting
Direct contact with your farmers
USDA certified organic label
Weekly newsletter
On Farm Pickup in Dover-Foxcroft
Twice-monthly on Wednesdays, 2-6pm
April-June, 2023
$196
Delivered to Downtown Bangor pickup site
Twice-monthly on Wednesdays, 3-6pm
April 5 - June 14, 2023
$196
Bangor Area Home Delivery
Delivered to your approved home address in Bangor area
Twice-monthly on Wednesday afternoons
April - June 2024
$196 + $4/week delivery fee
FAQ
Do I have to pay all at once? Answer: YES
Full payment for the Spring CSA shares is due at sign up.
We accept credit cards for CSA shares! We also still accept cash, check, and bank checks.
What are the dates of the Spring CSA this year?
You can find the dates for the CSA on this page.
What if I go out of town or can't pick up my box?
In this case, you have a few options:
You can ask a friend or family member to get it for you.
You can ask us to donate your box to a family in need. This can be done on our online member portal or by emailing us directly.
Or you can ask us to skip a week of harvest for you.
Please let us know ASAP when you won't be able to pick up your share. If we don't hear from you, any unclaimed boxes will be donated to a local family in need.
About Ripley Farm's 'Eat More Veggies' Guarantee
Ripley Farm's Spring CSA program comes with a 100% money-back guarantee... but we don't stop there. We promise you will find yourself and your family eating more veggies than you ever have. You will try new recipes that you would never have before being a CSA member and your family will ask for more of those delicious veggies you are now preparing with confidence.
At Ripley Farm we take CSA very seriously, and you have our personal promise that we will not rest until you are happily finding creative ways that you love to use up all of your veggies. That you will not waste a bite because you didn't know what to do with something. We believe in the freshness and taste of our produce so much that we will guarantee it.
At any time, if you decide Ripley Farm hasn't delivered inspiring produce and helpful tips on how to use it, transforming your kitchen experience into delicious and nutritious meals for your family, just call 207-564-0563 and tell us and we'll give you a complete refund. You can also email or send your request by postal mail to the postal address below or even just stop by.
If you aren't satisfied we would not feel right keeping your money, so we make it easy to get a refund. And just to be clear, there are no strings attached, no paperwork involved, no questions asked, and nothing to prove. We won't even ask for the vegetables back. Just for the record, we've sent out thousands of CSA boxes and haven't had a single refund request.
You won't have to wait either. We will make every effort to send you your refund check as soon as possible. In fact, we are so confident in our CSA's ability to transform you into a confident cook in the kitchen who provides delicious food that you family loves, that we're making this promise... anyone who requests a refund will receive, without question, hassle or delay 100% of your money back.
Your farmers,
Gene and Mary Margaret Ripley