Why You Need to Make More Dips For Veggies
Have you ever agreed to something and then realized that it involved more than you bargained for?
Well this weekend I hosted a completely new to me food class at the farm! In fact I don't consider myself an expert at all in the topic.
Picture me Sunday morning, scrambling around in my kitchen's sad state of wreckage, trying to pull together 7 different dips in 2 hours for the class later that afternoon. Yes, even re-washing the oily food processor multiple times!
It looked like a bomb went off in there. But, I pulled it off! And the "Dip into Dips" class was awesome!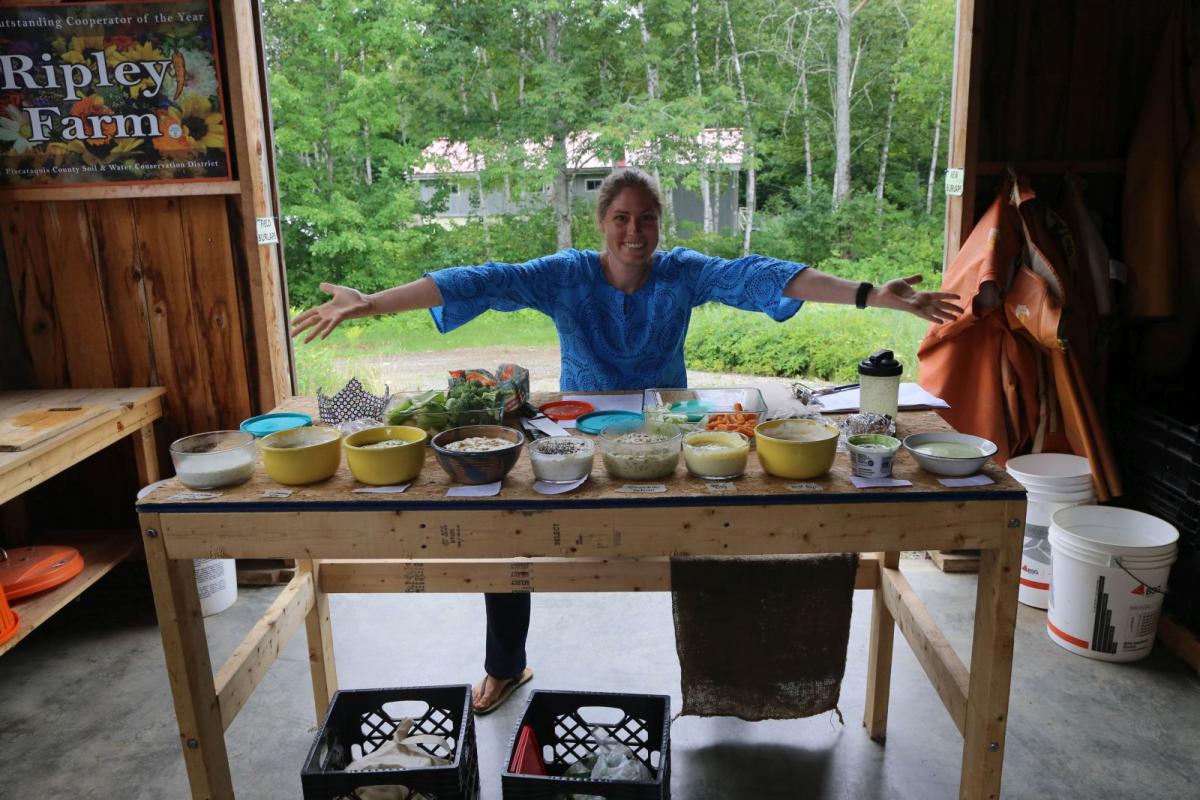 But, why a dips class?
The story behind it is kind of a funny one. And all starts with our Facebook community group for CSA members, a totally new thing for us this year.
And a thing that I am really beginning to love. Why? Because it is a whole big group of people who love veggies enough to commit to 16 weeks of veggie mystery!
And that is more than pretty cool. It's incredibly inspirational to see all of the amazing things that are happening with seasonal veggies from our farm in kitchens around Central Maine!
So I polled people on what class topic they'd be most interested in seeing and "Homemade Condiments" won. Then I polled everyone on what kind of condiment they want to learn more about, and "Dips" won.
So it was a community supported class! CSC? I don't know if there is such a thing, but it's a cool story. And it turns out our CSA members are on to something…
Why you need to make more dips for veggies
The funny thing about the "dips" class topic is that I don't really make that many dips at my house. I kinda do the minimum. You know, get homemade food on the table that includes veggies for most meals.
But go the extra mile and make a homemade dip? "Gah, I don't have time for that."
Actually the class got me thinking about the importance of dips and what they can do for you. After making so many of them, I learned a couple of things about dips:
Homemade dips really don't take that much time to make. (Calculate 7 in 2 hours and you get 17 min per dip including prep + make time + washing!)
And dips really do get you eating more veggies! When you put dips out, your cut up veggies disappear. Fast. Really fast.
The day after the class I went to visit family friends at their camp on the lake. Can you guess what I brought? DIP! And not just one, but a few. Hey I had made seven!
Luckily this family had veggies of all kinds to cut up and go with the dips. So we put them out for lunch and…
Dip...
Dip...
Dip...
After a short time the piles of veggies we put out were gone! Back inside to get more veggies to finish the dips… Even went as far as spreading dip on whole lettuce leaves and rolling them up…
Yep! That's right you can eat more fresh raw veggies with the right dips.
At this weekend's class, all in all we had 10 dips and had a "taste test" with all of the class participants. Actually there was no consensus, probably because they were all so good. And everyone was quiet munching away on the cut up broccoli, salad turnips, pac choi stems, and baby carrots fresh harvested from the farm.
So here ya go...
5 dips that will get you eating more raw veggies
Zucchini Tahini Dip
3-4 medium zucchini or summer squash, cut in half (after roasting you should have 1 1/2 cups chopped)
1/4 cup olive oil
1/4 cup Tahini
2 tablespoons lemon juice
1-2 medium cloves of garlic, minced
1/4 teaspoon nutmeg
salt to taste
Place zucchini cut side up on baking sheet and roast at 400 degrees for about 1 hour or until very soft. Let zucchini cool, then chop and place with all other ingredients into a food processor. Process until a smooth and creamy. Check salt and serve! Great substitute for mayonaise or can be used as a dip or spread. Store in the refrigerator.

Curried Sour Cream Dip
1 cup sour cream
½-1 tsp curry powder or to taste
¼-½ tsp salt
2-3 tsp prepared mustard
Mix curry powder, salt, and mustard into sour cream. Use mixture as a dip for vegetables.
Green Goddess Dip
3 TBLS fresh lemon juice
1 TSP Worcestershire sauce
1 TBLS cider vinegar
1 garlic clove, minced
1 avocado (or 2 if small), seeded and removed from shell
½ cup Sour cream
¼ cup fresh parsley, minced
½ cup fresh basil, minced
3 TBLS fresh tarragon leaves (optional)
½ cup olive oil
salt and pepper to taste
Add all of the ingredients to food processor except the salt and pepper. Pulse until all ingredients are well combined. Taste and add salt and pepper to taste. Transfer to a container with a lid and refrigerate for a minimum of one hour to let the flavors develop.
Garlicky Greek Yogurt Ranch Dip
(Contributed by Nellie)
1 cup Greek yogurt
2 TBLS mayo
2 TSP vinegar (white or cider)
2 TBLS garlic, minced (or garlic scape)
2 TBLS scallions, minced
1/4 cup fresh parsley, minced
1/2 TSP fresh thyme, chopped (or 1/8 tsp dried thyme)
salt and pepper to taste
dash Tobasco sauce (optional)
Stir all ingredients together to combine well. Refrigerate for a minimum of one hour to let the flavors develop.
Kefir Onion Dip
(Contributed by Ashley)
2 cups kefir cheese (or substitute greek yogurt drained for 12 hours)
1 onion, sauteed gently (do not brown)
juice of 1 lemon
salt to taste
poppy seeds to garnish
Add all ingredients to the food processor and blend until smooth. Refrigerate overnight or until firm. Garnish with poppy seeds before serving.
And for even more dip inspiration download the handout I created for the class here.
What is your favorite dip for veggies? Post a comment and let us know!