What is in the Spring CSA?
As the colder weather and darker days set on, you're already dreaming of spring, right? Of course!
And of all things greeeeeen!!!
Well...
We know what it's like!
If you love garden fresh taste, and can't wait for green things to start growing before your garden gets going or your Summer CSA starts, we can help!
Join our Spring CSA, and we'll set aside part of our early spring greens harvests combined with the sweetest of the winter's storage vegetables for you so you can put freshness on your table during the hardest part of the year to have real garden taste.
What is in the Spring CSA?
The Spring CSA runs 3 months (April 3, 2024-June 12, 2024) with veggie pickups twice a month on Wednesdays. Exact dates can be found here.
For each of the 6 pickups we will pick out a unique mix of 7-9 kinds of fresh veggies from our high tunnels and root cellar and package them up for you. No two weeks are the same, based on what is in season. Keeps it interesting!
Here are month-by-month pictures of last year's 6 Spring CSA shares to give you examples of what a share looks like in variety and quantity.
Of course every year is a little different, so no matter whether you're a returning or new member, you'll be excited to open it up each time. In fact, the one thing I can guarantee you is that this year's veggies will NOT be exactly the same as those below! ;)
April Examples:
2023 SpCSA Share #1: Kale, claytonia greens, beets, red potatoes, green cabbage, spinach, carrots, and onions.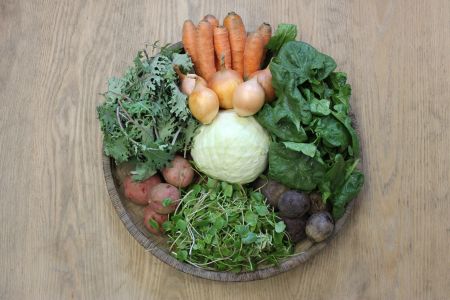 2023 SpCSA Share #2: Kale, spinach, carrots, potatoes, claytonia greens, winter squash, and onions.
May Examples:
2023 SpCSA Share #3: Parsnips, kale, spinach, claytonia, potatoes, carrots, shallots, chives, and sorrel greens.
2023 SpCSA Share #4: Chinese leaf cabbage, beets, carrots, spinach, pac choi, arugula, rutabaga, fresh mint, and purple potatoes.
June Examples:
2023 SpCSA Share #5: Salad turnips, rhubarb, carrots, celeriac root, Swiss chard, potatoes, pac choi, and lettuce mix.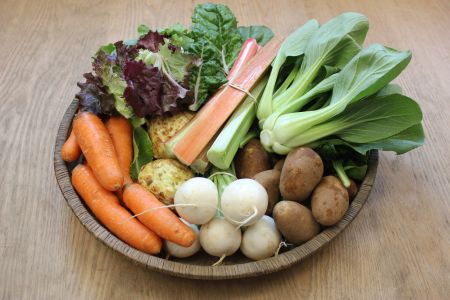 2023 SpCSA Share #6: Radishes, arugula, kale, beets, salad turnips, pac choi, potatoes, carrots, and mini lettuce heads.
Sign up for the 2024 Spring CSA is coming soon!
If you are not looking forward to going back to the grocery store after enjoying a winter full of garden fresh flavor, remember we can help. Our overwintered spinach and kale are sweeter than anything you have ever tasted and our carrots "out of this world."
Join our Spring CSA for organic vegetables harvested and stored just for you direct from our family farm. Our colorful vegetables and recipes will freshen up your spring meals and help you enjoy fresh variety while you wait for your garden or Summer CSA to start booming.
Does this sound right for you?
Do you like eating fresh veggies better than the limp ones from the grocery store?
Do you like trying new things?
You will for sure get real garden fresh taste and learn something doing our Spring CSA in 2024!
If this sounds like you, here's a link to more info:
Yes, I want more info on Spring csa 2024
Look for the sign up for Spring CSA 2024 to open on Friday, December 1.