What To Do With All These Tomatoes?!
If you're like us, you've been babying those precious tomato plants in the garden for months now. Since Memorial Day to be exact! Seems like forever to wait for a ripe tomato!
Then, all of a sudden, your tomatoes start to ripen. And by September, you're swimming in tomatoes!
That's how we feel on the farm, too! Farmer Gene and the crew harvested well over 1000 pounds this week alone.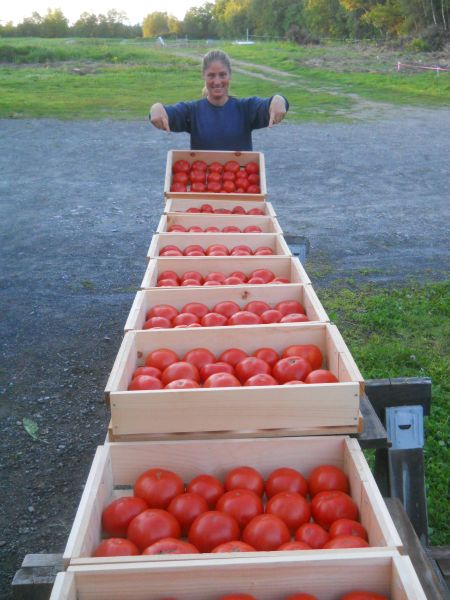 No complaining since it is what we've all been waiting for, right?
But how to you use them up before they go bad? You don't like having tomatoes sitting too long in the kitchen collecting fruit flies…
Plus, garden fresh tomatoes taste so much better than grocery store tomatoes that it's hard to let them go to waste. Any of them.
In September it seems like putting them on sandwiches and salads isn't enough to use them all up. If canning is not your thing, try our favorite delicious uses for fresh tomatoes…
And savor every single one!

What to do with all these tomatoes?!
#1 Make Homemade Tomato Soup
Soup truly is my number one way to use up extra tomatoes (or really almost any veggie). Here are a few of our favorites for tomatoes!
Roasted Tomato Soup with Pesto
I've been making this soup every couple days in the past couple weeks. It is soooo good and simple to make ahead!
3 pounds tomatoes, either quartered or whole depending on size
cooking oil or butter
1 onion, sliced (or scallion or fresh onion top)
1 clove garlic, minced
2 cups+ chicken broth
salt and pepper, to taste
balsamic vinegar, to taste
pesto, to taste (I used 2 TBLS)
cream, to taste
Roast the tomatoes on a baking sheet at 375 until softened and you can slip off the skins easily. Remove and discard the skins and keep all the juices and pulp in a bowl. Heat a pot with oil or butter. Saute onion until translucent, about 5-10 min. Add garlic and saute 1 more min. Add roasted tomatoes and broth. Simmer until onions are soft, about 10 more min. Puree. Add salt, pepper, balsamic vinegar, pesto, and cream to taste. Serve warm.
Gazpacho
Assistant Farm Manager Robert recently made a batch of Gazpacho for a farm potluck and it was amazing! I forgot about how FRESH tasting it is!
3 lbs. tomatoes, peeled and chopped
1/4 cup minced onion, any color
1 green pepper chopped
1 TBLS fresh herb chopped like basil, cilantro, parsley etc.
1-2 cups chicken broth
1-2 TBLS olive oil
3 TBLS lemon juice
1-2 avocados, chopped
salt to taste
sour cream
Combine all ingredients except sour cream. Blend it if you like the consistency more smooth. I personally like mine chunky so I don't. But Robert blended his! Top with a dollop of sour cream in each bowl. Serve cold.
Homemade Garden Veggie Soup
When I've got a fridge full of garden harvest with more on the way, I make an amazing vegetable soup with whatever I have that's in season. It is different every time, but it always includes tomatoes and onions (or scallions or leeks or shallots, etc.) plus any combination of summer squash, zucchini, peppers, green beans, potatoes, carrots, greens, garlic, etc I've got on hand.
cooking oil/butter
onions, sliced
other veggies mentioned above that you have on hand, chopped
tomatoes, chopped
chicken broth
salt and pepper to taste
Saute onions (and carrots if using) in oil until translucent. Add the rest of your veggies, chicken broth to cover, and tomatoes. Bring to a boil. Simmer until veggies are tender. Salt and pepper to taste.

#2 Make Homemade Fresh Salsa
Homemade fresh salsa taste soooo different than what you get in a jar, you won't believe it! We LOVE it with eggs in the mornings, on tacos, tortilla chips, etc. etc. Here's our favorite basic recipe:
Fresh Tomato Salsa
Juice of 1 lime (or lemon)
1.5 lbs. tomatoes and/or cherry tomatoes, chopped
½ red onion, chopped fine
1 small hot pepper, seeded and minced (or ¼ tsp chili flakes)
2-4 tbls cilantro, chopped
¼ cup sweet pepper (any color), minced
3-4 cloves garlic, minced (optional)
1 tsp salt
¼ tsp black pepper
Mix all ingredients in a bowl and chill in the fridge for several hours or overnight before serving. This salsa is great with tortilla chips, with Mexican food, as a relish for fish, or on burgers in place of catsup.

#3 Make Homemade Marinara Sauce
I love doing this! It's a great way to use up all kinds of extra veggies and you can even freeze it for later. Mmmmm!
Garden Fresh Marinara Sauce
2 tbls butter or olive oil
1 onion, any color finely chopped
1 small, or ½ large zucchini, chopped
1 green or red pepper, chopped
1 garlic clove, minced
2 lb. tomatoes, chopped
¼ cup basil, minced
Salt and pepper, to taste
Heat the butter or olive oil in a pot over medium heat. Sauté onion until just soft, about 3-5 minutes. Add zucchini, bell pepper and garlic and sauté for another 3 minutes until zucchini is softening. Stir in tomatoes and basil and cook, stirring occasionally until sauce is slightly thickened, about 20 minutes. Season with salt and pepper. This sauce goes excellently over pasta, baked or grilled fish, or meatballs. If putting it over meatballs you can add ¼ cup beef stock to the sauce when you add the tomatoes, and cook it down slightly longer to evaporate some of the extra liquid. This deepens the flavor wonderfully.

#4 Make our GO-TO homemade dishes with other veggies and tomatoes
Shakshuka
This recipe is a delicious one skillet meal for a lazy morning. It is really, really good. We top ours with a dollop of sour cream and have it with tortillas. Try it!
½ tsp cumin seeds
¼+/- cup cooking oil
1 medium-large onion, sliced
3 sweet peppers, green or ripe, sliced
1 teaspoon+ honey/other sweetener
1 bay leaf
½ tsp dried thyme
1 bunch cilantro, chopped
2+ cups chopped tomatoes
Salt, pepper, and cayenne pepper to taste
6-8 eggs
In large skillet dry-roast cumin over high heat for 30 seconds. Add oil & onions and turn heat down to medium-high. Sauté 5 min. Add peppers, honey, bay, thyme & ½ of cilantro. Sauté 5-10 min. Add tomatoes & seasonings. Cook 10-15 min, stirring. Remove bay leaf. Make gaps in veggies. Crack eggs into gaps. Sprinkle salt on eggs, cover, & cook on medium-low heat about 10 min until eggs are set. Garnish with cilantro.
Lebanese Green Beans
Probably one of my very favorite summer recipes! I can't encourage you enough to try it! Plus it uses up tomatoes!
1 pound green beans, ends snapped and cut in half
1 onion, chopped
2-4 tablespoons oil
1-3 cloves garlic (to taste), minced
1 pound tomatoes, chopped
salt and pepper to taste
1/4 teaspoon ground allspice
pinch of sugar or maple syrup
Heat oil in skillet and add onion, sauteeing until translucent. Add green beans and saute until browning, about 5 to 10 minutes. Add the rest of the ingredients, bring to boil and simmer until desired tenderness, about 30 minutes. Enjoy!
Summer Squash Tomato and Basil 'Slop'
I make this during the glut of squash, tomatoes, and basil. Its so easy and delicious, stores well in the fridge as leftovers and goes well with practically everything! We like it over scrambled eggs, rice, pasta, fish, etc!
2-4 TBLS butter or oil
1 bunch scallions (or 1 onion), chopped
1-2 pounds summer squash, chopped
1-2 lg. tomatoes (depending on juiciness desired)
1 large handful basil, chopped
1-2 garlic cloves, mashed (optional)
Salt and pepper to taste
Heat the oil in large skillet on medium. Add scallions and sauté until softened, not browned, about 5 min. Add the remaining ingredients, bring to boil, and simmer covered until tender, about 20 min. Remove lid to boil off unwanted liquid.
How do you like to use up your garden's abundance of tomatoes?
Please reply and let me know! I want to hear your favorites!