How I Preserve The Garden Fresh Taste I Miss The Most
Kids love rituals, right?
Well, my daughter used to have one every night that when she was ready to go get her father to read a book before bed, she'd run down the hall yelling "WHAT'S THE LOW TONIGHT, DAD?"
And even more humorously she invariably answered her own question with something not-so-seasonal-anymore like "probably sixty-six".
We've had a few nights already where Gene answered her question with "29".
Now that we've reached the second half of October, hard freezes threaten what is left of the garden.
I love garden fresh taste so much! To me, nothing beats it! It's so hard to think about it being gone...
And when I think about it, the garden fresh taste that I miss the most is fresh herbs.
Funnily, I don't even have a favorite… I just love them all!
This year I've used more fresh herbs than before in my salad dressings, dips, soups, sauces and stir-fries. And the colder fall temperatures remind me of the impermanence of garden fresh taste. Driving me to do something to preserve it!
My efforts in past years at preserving fresh herbs have been lacking in inspiration so much that I find myself not using them much at all.
Last fall I learned an innovative way of freezing herbs to make them both easy to use AND satisfactory in preserving the MOST of the garden fresh herb flavor at the same time:
Freezing herbs in oil.
So if you love the taste of fresh herbs as much as I do, or if you find yourself with a little more than you can use fresh, try this technique out!
Why try freezing your own herbs for winter?
Makes cooking easier: Having herbs at the ready is really easy and makes me use them more.
Saves money: Fresh herbs from the store are expensive in the wintertime.
Saves time: Helps save trips to the store, I can just grab some frozen right in my kitchen.
Saves waste: Have you ever bought a bunch of herbs before and not used it all? This way you use just what you need at the time without worrying about some of it going to waste.
Here's my new favorite way to freeze fresh herbs in oil
chop herbs or pulse in a food processor
add oil to coat
freeze flat in a plastic bag
break off just what you need and keep the rest in the freezer for later
Or you can use small ice cubes to freeze it in, if you prefer. Just pop them out once they're frozen and store in an air tight container.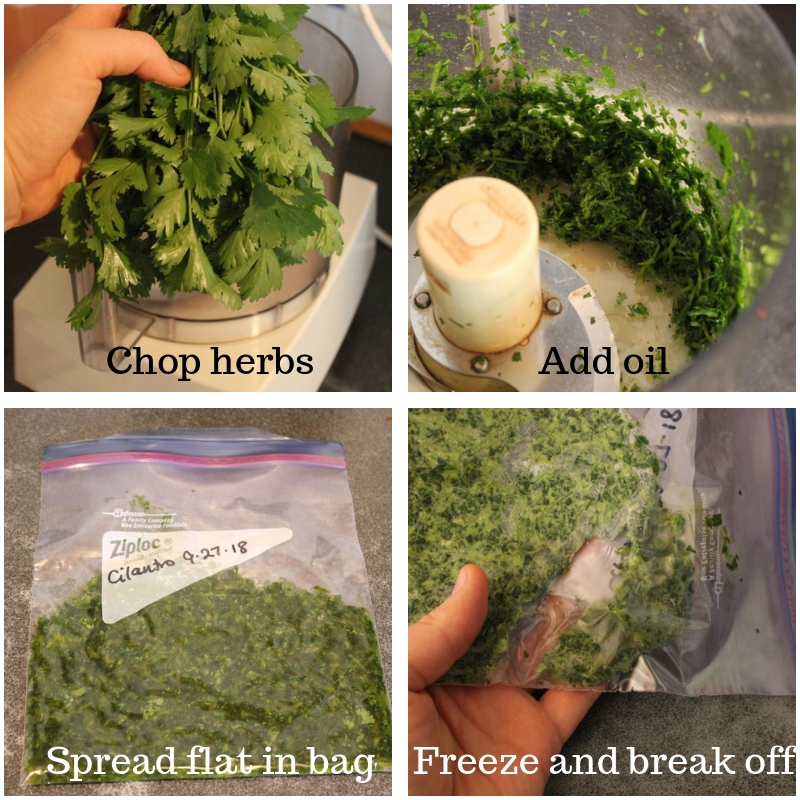 What herbs can you freeze in oil?
Here's a partial list of what I consider important to me, because they're harder to dry and would work well in applications like sauces, stews, and soups.
Cilantro
Parsley
Dill
Mint
Basil
Ideas for how to use your frozen fresh herbs in oil:
Soups: can I remind you of how good the Carrot Cilantro Soup found here in our vegetable gallery is on a cold winter day?? Freeze your own cilantro and you won't have to run out to the store just for that!
Stir-fries: Anything that will dress up a stir-fry, I love! So frozen cilantro, parsley, or basil is perfect for doing just that! Just add at the end and mix well!
Salad dressings: Anyone else ADORE the flavor of fresh dill? OMG, I believe that is the single most important ingredient I can add to a salad dressing to make my family and myself eat more veggies! With my copious supply of frozen dill in oil, I can make my own homemade dressing whenever I want!
Dips: Similar to salad dressings above, dips excel with the addition of a little bit of fresh (or frozen in oil) herb. Y-U-M!
What the frozen-in-oil technique does NOT work for:
Fresh garnishes that won't be cooked. Obviously, the fresh leafy texture of a fresh herb is not the same when blended with oil. You would want to use truly fresh for that context.
See below for which herbs are best for drying rather than preserving frozen in oil.
Herbs that are easy for me to just hang to dry in my house:
Thyme
Summer savory
Sage
Oregano
Marjoram
What is your favorite for garden fresh flavor?
I would love to hear what YOUR favorite garden fresh flavor is that you can't live without and how you preserve it!