How to Eat More Salad, With Recipes
"What do I do with all of this lettuce?"
One thing I can say for sure about most new CSA members, is that you report having to work to eat all of the veggies that come every week in the farm share. That it gets you eating more veggies than you have in your life.
And especially the lettuce can be a lot for some people, at first. This is even true of some seasoned CSA members…
When I interviewed the most experienced CSA members last winter (think 5, 6, 7 year veterans) the most consistent advice I heard from them was:
"Be disciplined to get through everything, especially the lettuce."
Or "Stay on top of the lettuce."
Or "Don't forget about the lettuce in the back of the fridge until Tuesday."
Of course we all agree that greens are good for you. That is commonly accepted.
And that we should try to eat more of them. Also commonly accepted.
Lettuce for your salads every week, is our promise. Or at least our goal of every year's summer CSA. (And we almost always achieve it.)
Our other promise is to help YOU meet YOUR goal of eating more healthy veggies. So here's some inspiration to use it all up, not waste a bite, so you can meet your goal of eating more veggies!
"But, how do I eat that much salad??" Many ask.
So here we go…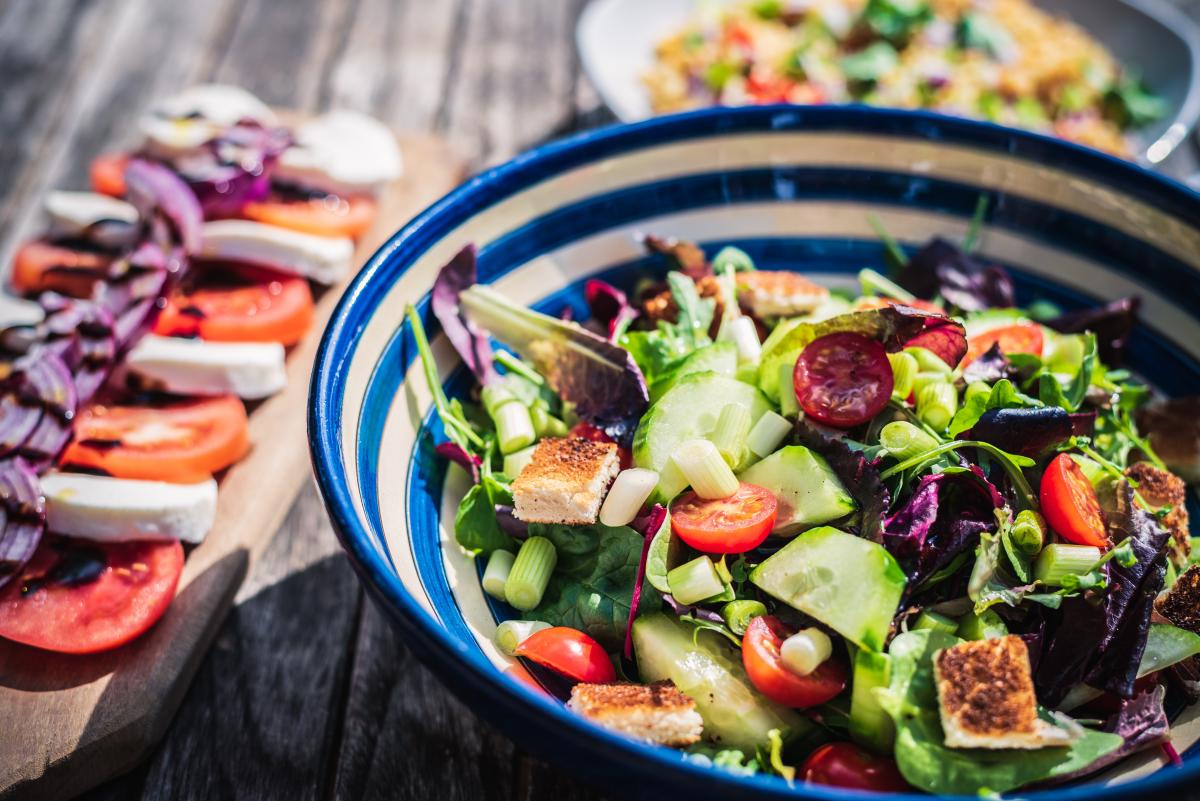 How to Eat More Salad With Recipes
1. Prepare it ahead of time
I have a confession to make. I had never done this before last summer. Yep, it's true. I learned this tip from my interviews with experienced CSA members. And now I'm an evangelist.
Why? Because when you're tired at the end of the day, sometimes you just want to grab junk from the cupboard. You can remember that fresh delicious lettuce you pre-prepared. And you can still have a quick healthy meal!
It makes all the difference in the world. Really, if you do nothing else, do this and you will eat up your lettuce. I promise!
6 steps to prepare your salad ahead of time:
chop or tear up your lettuce head into desired size pieces
rinse it in a colander
spin it dry with a salad spinner or pat between towels
store in a lidded container in the fridge
optional, chop up other veggies and throw them in, too, like cucumbers, radishes, salad turnips, scallions, carrots, cherry tomatoes, mushrooms, etc. etc.
pull it out, embellish if you want, and dress! Viola! Dinner can be on the table easily.

2. Make it a meal
You can eat more salad when you make it your main meal! Here are some awesome ways to do just that! Perfect for hot weather when the last thing you want to do is cook.
Caesar Salad with Grilled Lemon Pepper Chicken
(Recipe courtesy of CSA member Mary Sue Henszey)
2 whole boneless skinless chicken breasts
Olive oil
lemon-pepper seasoning*
Coat chicken breasts lightly with olive oil and then with a generous amount of lemon-pepper seasoning ( to taste, of course). Grill until cooked through. Cut into bite-sized slices and refrigerate until time to serve.
To make dressing, blend until smooth:
½ cup good quality olive oil
2 Tablespoons fresh lemon juice
4 to 6 large cloves of minced garlic
Grate 1/2+ cup of fresh Parmesan cheese
Wash Romaine lettuce thoroughly and spin dry. Tear into small pieces in a large salad bowl. Spoon dressing over greens and toss until well coated. Sprinkle salad with a generous amount of freshly grated Parmesan cheese and toss again. Top with sliced chicken breast and serve immediately.

Cobb Salad
(Recipe courtesy of Farmer Gene: this is a common one when I forget to plan anything else for dinner. And I never regret it!)
Cooked roasted, broiled, or leftover chicken pieces or breast
Bacon, cooked and crumbled
Hard-boiled eggs, diced
Avocado, chopped
Cheese, chopped or grated (Roquefort, blue cheese, cheddar, parmesan, whatever kind you want)
Lettuce, chopped
Salt and pepper to taste
Basic vinaigrette dressing (see below)
Assemble your salad however you want it to look like. Dress and "gobble it down" (3-year old daughter Harriet-speak).
Taco Salad
(Recipe inspired by CSA members Jeff and Megan Hammond)
cooking oil
onion, chopped
garlic, chopped
ground beef
chili powder, to taste
ground cumin, to taste
salt and pepper, to taste
tomato sauce (approx 1 cup per pound of beef)

lettuce, chopped
tomato, chopped or use salsa
cheese, grated
avocado, chopped, optional
sour cream or plain yogurt for garnish, optional
cilantro for garnish, optional
tortilla chips or regular tortillas
Saute onion in oil until translucent. Add garlic for 1 minute more. Add beef and brown. Add spices to taste. Add tomato sauce and cook until thickened, about 5 min. Put lettuce on plates, top with beef and other fixings as desired. Serve with tortilla chips/tortillas to eat it with.

Steak Salad
This is great with leftover steak from the previous night. Slice it up thin and put it on top of a salad.
leftover steak, sliced thinly
lettuce, chopped
cheese, crumbled or grated (blue cheese, goat cheese would work well here, or whatever you have)
nuts, chopped
tomatoes or other fruit like strawberries, raspberries, dried cranberries, or whatever you have to sweeten it up a little
dressing: use a basic vinaigrette dressing (below) but add a little Worcestershire sauce and a little sugar for this salad. Or try the Poppy Seed dresing below.
Assemble salad and dress right before serving.
Everything Salad
(Recipe courtesy of CSA member Mary Sue Henszey)
Lettuce, chopped or torn
Fresh chopped veggies that you have on hand such as salad turnips, cucumbers, scallions, radishes, carrots, tomatoes, etc.
Fresh fruit such as blueberries, strawberries, etc.
Fresh lightly steamed veggies like green beans and/or broccoli, shredded cabbage, snap peas, etc.
Seeds or nuts like toasted sunflower seeds or pumpkin seeds
Protein source such as sliced hard boiled eggs, grilled chicken or feta cheese
Toss everything with a Maple-Balsamic Vinaigrette (take the basic recipe below, using balsamic vinegar and adding maple syrup). It's a great way to clean out the refrigerator the night before a new CSA!
3. Dress it up right
Homemade salad dressings are easy to make, healthy for you, and best of all, delicious! Here are some CSA member favorites shared in the FB group that you can make in 5 minutes or less. Prep them ahead, too and have them in the fridge for when you'll need them.
Basic Vinaigrette Dressing
¼ cup vinegar (red wine, cider, balsamic, whatever you have)
1 TBLS prepared mustard
salt and pepper to taste
3/4 cup olive oil, to taste
Whisk all together and store in fridge for up to 1 week. Shake before dressing.
Poppy Seed Dressing
(Recipe courtesy of CSA member Sarah Morin)
1/2 cup oil of your choice
1/4 cup white wine vinegar
1/2 cup sugar (I add less than this because I don't like mine as sweet)
1/4 tsp paprika
1 tsp poppy seeds
3 tsp sesame seeds
Add everything to a jar and combine well.
Dairy-free Tahini Dressing
(Recipe courtesy of Mary Margaret Ripley (that's me!))
1 tsp mustard
1/4 cup vinegar (I use cider vinegar or lemon juice)
1 TBLS tahini*
3/4 cup olive oil
salt and pepper to taste
minced fresh herb (dill weed, basil, parsley, etc.)
Mix everything together to emulsify. Yum!
*If your tahini is kinda hard (from being in the fridge or just is a little dry), mix it with a little bit of olive oil to soften into peanut butter consistency before adding it to the dressing. It will fully emulsify in your dressing that way and not be clumpy!
Caesar Dressing
(Recipe courtesy of CSA member Merrie Knightly)
In a mixing bowl whisk together:
2 cloves minced garlic
1/2 teaspoon sea salt
1/2 teaspoon fresh ground pepper
1/8 teaspoon cayenne pepper-optional but great
2 tablespoons fresh lemon juice
1 teaspoon Worcestershire sauce
1 teaspoon Dijon mustard
1 egg yolk-I have my own chickens so no worries about using raw egg yolk
When this is all whisked together while continuing to whisk drizzle in 2/3 cup extra virgin olive oil. The dressing will get thicker as it emulsifies. I also add one anchovy filet mashed up or you can use about 1/2 teaspoon achovy paste but both are totally optional.

Dairy-Free Ranch Dressing
(Recipe courtesy of CSA member Samantha Coffin)
1 cup mayonnaise (she uses paleo or homemade for whole30 mayo)
1/2 cup fresh parsley
1/4 cup lemon juice
3-4 large cloves garlic
2 tablespoons fresh dill
1 teaspoon lemon zest
1/2 teaspoon sea salt
fresh cracked pepper to taste
Whisk everything together.
4. Plan for salad every day
This is easy to do now that you've prepped yours ahead and got some meal ideas and recipes to go off of. Options include:
Pull it out of the fridge and put it out as a side option with dinner every night until it is gone.
Or even portion out your salads by day into mason jars the way some CSA members do. Take it to work with you and that way you'll really get it eaten up!
I hope this is helpful in finding ways for you to stay "disciplined with" and "on top of" your fresh lettuce.
What is your favorite salad or salad dressing? What gets you eating more of it?
Let me know in the comments below!