How to Take the Bite Out of Radishes and Love Them
"Radishes are too spicy for me!"
I hear this all the time from friends, family, and CSA members.
Is that you, too?
Well, I have got a secret to tell you.
You can still love radishes because of this trick I'm about to share with you.
And while I don't mind their "bite", once I tried them this way, I eat way more radishes and enjoy them more!
Give it a try…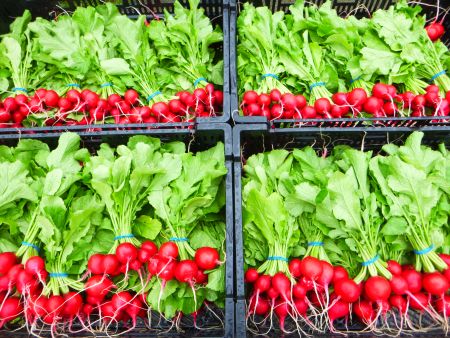 How to take the bite out of radishes and love them
And drum roll… The secret is…
COOK THEM!
Yes, you can cook radishes, I promise.
I know in America, we think of radishes in a limited way, raw in salads. Am I right? I don't think many would disagree with me.
But, in other cultures around the world, radishes are enjoyed cooked for their complex sweet taste.
Wait, did you say, sweet taste??
Yep! I did! And once you try it, you'll be surprised at how delicious radishes really are!
Three ways to cook your radishes to mellow out their spiciness
#1 Stir-fry your radishes
Asian-style Stir-fry with Radishes
Radishes, quartered
Scallions or onion, chopped
Bok choy, rinsed and chopped (separate the leaves from the stalks because they differ in cooking time)
Other veggie(s) of choice, chopped (broccoli, snow peas, salad turnips, summer squash, etc.)
Cooking oil
½ tsp minced ginger
garlic clove or garlic scape, minced
salt, to taste
pepper, to taste
Farmer Gene's stir-fry sauce (whisk all ingredients)
2-4 TBLS soy sauce
1-2 TBLS vinegar (apple cider, or other vinegar of choice)
1 tsp maple syrup
1/2 tsp toasted sesame oil
hot sauce or cayenne pepper to taste
Heat oil on medium-high heat in large skillet. Add prepared veggies except for the leaves from the pac choi. Stir frequently until veggies are tender crisp, only a few minutes. Add bok choy leaves, salt, pepper, ginger and garlic. Stir until wilted. Remove from heat. Add stir-fry sauce to coat. Serve hot over rice, noodles, or as a side dish!
#2 Roast your radishes
Basic Roasted Radishes
Here is a basic recipe for roasted radishes, but you can add any other additional veggies you choose that will roast in the quick amount of time that the radishes do. Good options to complement the radishes are salad turnips or zucchini.
Radishes, cut in half or quartered
Salt
Pepper
Olive oil
Thyme or other herb of choice
Heat oven to 450 degrees. Lay radishes on cookie sheet. Drizzle over olive oil, add salt, pepper, and herb of choice and toss to coat. Roast until tender, about 15 minutes.
#3 Saute your radishes
Sauteed Radishes with Bacon
3 slices of bacon, chopped
1 bunch radishes, quartered
¼ cup coarsely chopped onion, shallot, or scallion
1 clove garlic or 1 garlic scape, minced
thyme (fresh or dried)
salt
pepper
1-2 TBLS cider vinegar
butter to taste
Cook the bacon in a skillet until crisp. Remove from pan and reserve. Add radishes and onion and cook on medium-high, stirring approximately 10 minutes, or until browned on all sides. Add garlic, thyme, salt and pepper. Stir and remove from heat. Add vinegar, butter, and reserved bacon. Check seasonings and serve hot!
Have you ever cooked your radishes before? Make a reply and let me know!