You are here
Cooperators of the Year 2016 event at Ripley Farm
"We'll be there on Friday at 8am to start setting up," they said. And they weren't kidding! Just as our employees got here to start work that morning, several more cars rolled into the farm drive. Soon after I could hear sounds of persistant banging on metal. Sounds like they're working on the railroad, I thought to myself. Clink, clink, clink... and I looked out of the window to see a white party tent being erected between our large hoophouse and the PYO flower garden.
The folks at the Piscataquis Soil and Water Conservation District hosted their annual "Cooperators of the Year" event on Friday, September 9 from 10:30am to 1:30pm. And this time at our little organic farm! Gene and I were to give a tour of the farm, fields, and buildings. Then an all-local luncheon was scheduled with an awards ceremony was to follow. We were excited to show off our farm after spending the days before completing "farm beautification" tasks like mowing and tidying.
My plan for the day was a little different than usual since I was to take part in the tour and celebration. That morning I was getting ready to go out "to work" and to leave the baby under the care of her grandmother, when Kacey and Joanna came into the house bearing all of the lovely food to serve at the luncheon. I knew then that this was going to be a great day. What I didn't know then was that it was going to be extraordinary!
I also appointed myself the event photographer on behalf of Ripley Farm! Are you surprised? And thankfully, I haven't lost my touch. I got some good photos and I've put together this blog to share the excitement of the event with you.
We started off with Gene leading a great crowd on a tour of the farm barnyard, buildings, production fields, and equipment.
a great crowd!!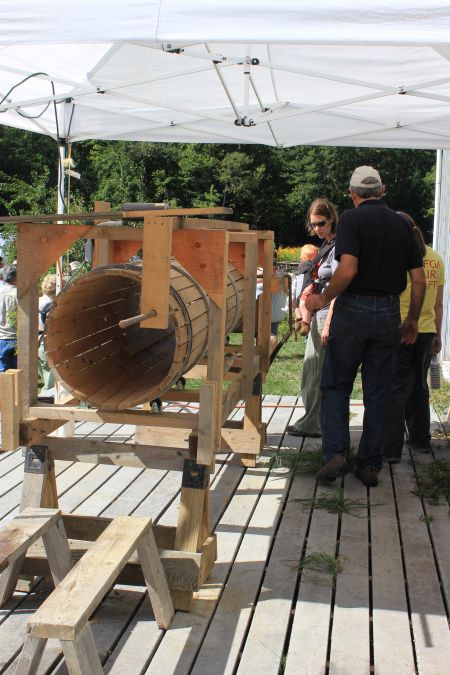 the farm-built root crop washer on display on our newly built wash deck
touring the barnyard and packing shed
Gene talking about growing carrots (our biggest crop)
fall greens and salad crops looking great
pac choi coming on for fall sales
fall brassicas including rutabaga in the foreground and broccoli and cabbage in the background
Gene described how we use hand tools on the farm
The crowd looking at the tractor implements
The farm tour wrapped up and we all headed to lunch
The luncheon prepared by the Soil and Water folks was amazing! And created out of all locally grown ingredients. Pulled pork sandwiches, bean salad, cole slaws, corn-on-the-cob, butter, apples, apple cider, potato salad....... YUM!
After lunch we had the awards ceremony. Here's where the extraordinary part comes in...
Paul Davis our state senator stood up to speak. He gave us an official sentiment from the Maine House of Representatives and the Maine Senate. What? What's more is a representative from our United States Senator Angus King then stood up. He gave us an official sentiment from the United States Senate! OMG. Then, we were named the Cooperators of the Year for excellence in sustainable farming and community involement and presented with the most awesome and beautiful sign you've ever seen.
Sen. Paul Davis is speaking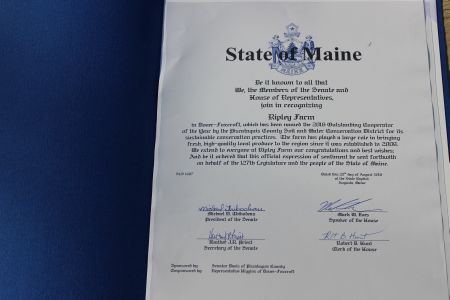 Maine Senatorial sentiment presented by Sen. Paul Davis of Sangerville
United States Senatorial sentiment signed by Sen. Angus King
Now we just need to figure out where to put this gorgeous sign!?!?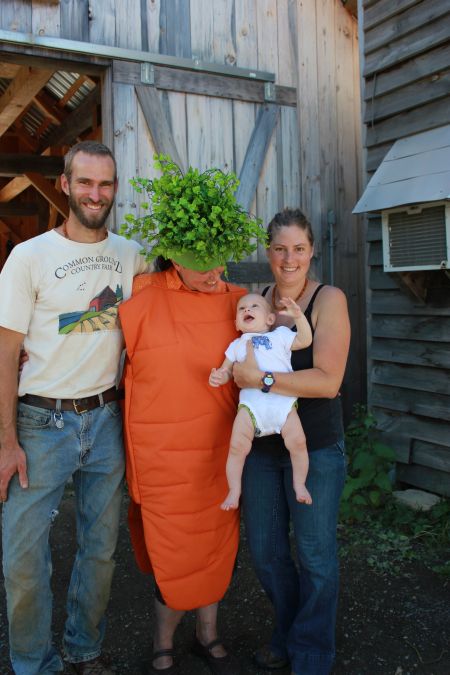 Here we are: newly named Cooperators of the Year 2016 standing with a representative of all the carrots that we grow!
Wow! Thank you to the folks at the Piscataquis County Soil and Water Conservation District for putting on an amazing event here. We are appreciative and a little overwhelmed with the community support. And last but not least, thank you to everyone who came to the event and a huge thank you to all of our wonderful customers who make our little family farm possible!